Black Insomnia Coffee – The NEW World's Strongest Coffee
The battle for the World Strongest Coffee continues as Black Insomnia Coffee takes the title with 702 mg of caffeine per 12 fl oz (354 ml), leaving Death Wish Coffee in second with 660 mg of caffeine per 12 fl oz (354 ml). That's slight over a 6% increase in caffeine content over Death Wish Coffee.
Source of data is CaffeineInformer.com website. Black Insomnia Coffee is a relatively new Coffee to the U.S. market and originates from South Africa.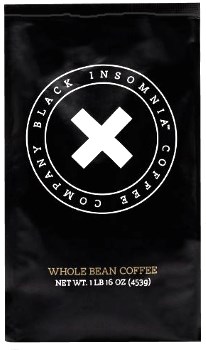 Be warned – the 58.5 mg of Caffeine per fluid ounce of coffee is an extremely high level of caffeine!
AVAILABLE FROM:
Currently we have only been able to find Black Insomnia Coffee available online at 2 sources:
Black Insomnia Coffee Website
Only one seller on ebay.com
We currently have no review data on Black Insomnia Coffee.
---
If you need caffeine and want a Highly rated coffee – Death Wish Coffee is available from
Amazon.com
---
The NEW World's Strongest Coffee